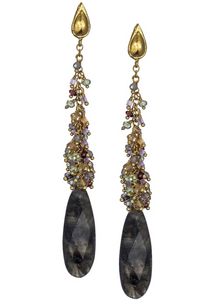 22k yellow gold dipped sterling silver with 14k gold fill wrapped peridot, citrine, garnet, multicolor crystals and long faceted labradorite drops.
Dimensions: Approximately 3.18" long by 0.39" at widest point
Shipping Note: All Azaara jewelry is custom made to order. We appreciate your patience as some pieces may take up to 4 weeks to ship.
Please email us at hautejewelscm@gmail.com or call us at 415-927-3939 if you have questions regarding shipping times.