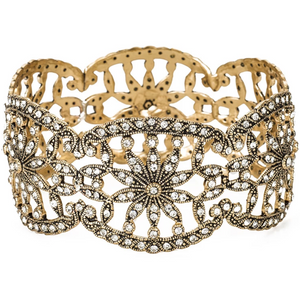 Azaara Antique finish (blend of copper and silver) with oxidized accents and hand-set clear Swarovski crystal.
Size: Approximately 2.57" inside diameter
Shipping Note: All Azaara jewelry is custom made to order. We appreciate your patience as some pieces may take up to 4 weeks to ship.
Please email us at hautejewelscm@gmail.com or call us at 415-927-3939 if you have questions regarding shipping times.